Our PVC compounds are complied with RoHS, we have directed customers to use our RoHS compliant products for their products to protect the environment.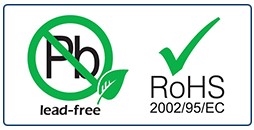 What is RoHS?
RoHS stands for Restriction of Hazardous Substances. RoHS, also known as Directive 2002/95/EC, originated in the European Union and restricts the use of specific hazardous materials found in electrical and electronic products. All applicable products in the EU market after July 1, 2006 must pass RoHS compliance.
RoHS is often referred to as the "lead-free directive", but it restricts the use of the following six substances:
1. Lead (Pb): < 1000 ppm
Lead is commonly used in the electrical and electronics industry in solder, lead-acid batteries, electronic components, cable sheathing and in the glass of cathode-ray tubes.
2. Mercury (Hg): < 100 ppm
Mercury is widely used metals in the production of electrical and electronic appliances and is concentrated in batteries, switches and thermostats, and fluorescent lamps.
3. Cadmium (Cd): < 100 ppm
Cadmium is used in electronic equipment, car batteries, and pigments.
4. Hexavalent Chromium (Cr6+): < 1000 ppm
While some forms of chromium are non-toxic, Chromium 6+ can produce toxic effects.
5. Polybrominated Biphenyls (PBB): < 1000 ppm
These are flame retardants found in electronic and electrical appliances. They have been found in indoor dust and air through evaporation from plastics.
6. Polybrominated Diphenyl Ethers (PBDE): < 1000 ppm
These are also flame retardants found in electronic and electrical appliances. Combustion of printed wiring boards release toxic emissions.